Aizu Ramen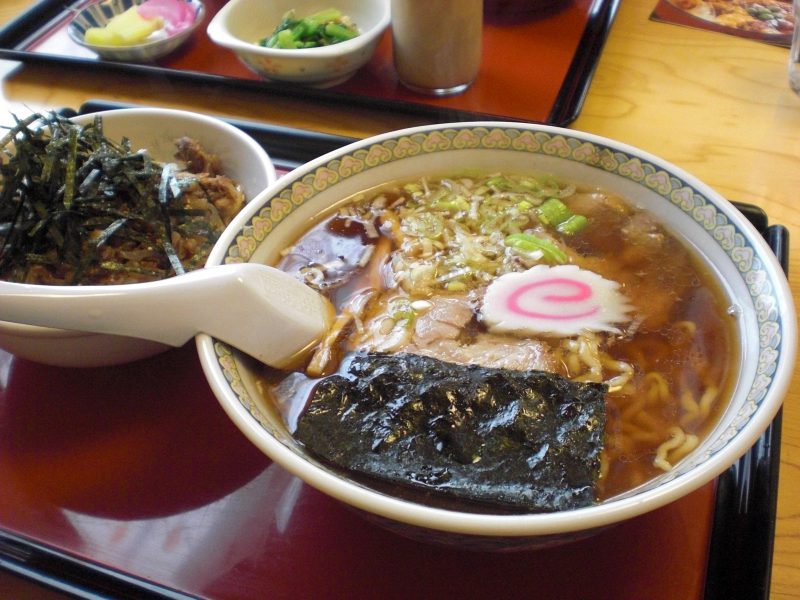 Aizu's ramen characteristics are thick and flattening. This smooth and rich taste inside soup will make the inside of your mouth feel amazing.
Each shop produces it's own taste, but each are made with a pork base.
Some are made with bay sardines, while others are made with a soy sauce base. As for the miso taste, each is different, depending on the shop you go to.
It is also common to add in barbecue, mustard, and bamboo shoots.
Furukawa Orchard
Authentic Kitakata Ramen Shop
Despite having no billboard, and being a one-of-a-kind shop off route 49, there are many regular customers that come.
These special handmade authentic Kitakata noodles, are complete with a clear soup, with your choice of regular noodles or extremely thick noodles.

【TEL】0242-75-3080 【Business hours】11:00-14:00 ※closes when the soup has run out
【Regular holiday】Wednesdays  ※closed on the day after a public holiday
【Fee】Ramen 650 yen/Niku-soba 850 yen(As of March 1, 2017)
【Access】Car: About 5 minutes from the Ban-etsu Expressway, Aizuwakamatsu IC
Taxi: About 5 minutes away from the JR Hirota Station
Gyunyuya Shokudo
True Aizu hospitality from the heart: a delicious katsudon (Fried Pork cutlet and Rice bowl) and a ramen you can not put down
Founded almost 90 years ago, the Gyunyuya Shokudo originally began by selling milk outside of where Ashinomaki Onsen Station now stands, at the beginning of the Showa era. It eventually became restaurant today, which features authentic Chinese ramen with techniques learned from the local Chinese population. We are proud of the taste of our Aizu ramen, and milk-miso ramen, whose taste is unique to our shop. We also serve a family stew and rice, and sauce-katsudon. Our sauce-katsudon and ramen set is very popular. From generation to generation, the recipe has been passed down; from daughter to daughter. The fourth generation is currently in training. There are many women on staff.. Our slogan is "Hospitality with love and humanity".

【TEL】0242-92-2512 【Business hours】11:00~15:00/17:00~20:00 【Regular holiday】Wednesdays
※closed on the day after a public holiday
【Access】By Car: 30 minutes from the Aizuwakamatsu IC exitBy Bus: 40 minutes from Aizuwakamatsu Station, 3 minutes on foot from the "Kamimiyori" bus stopOn foot: 2 minutes from the Aizu Railway "Ashinomaki Onsen Station"