Wappa Meshi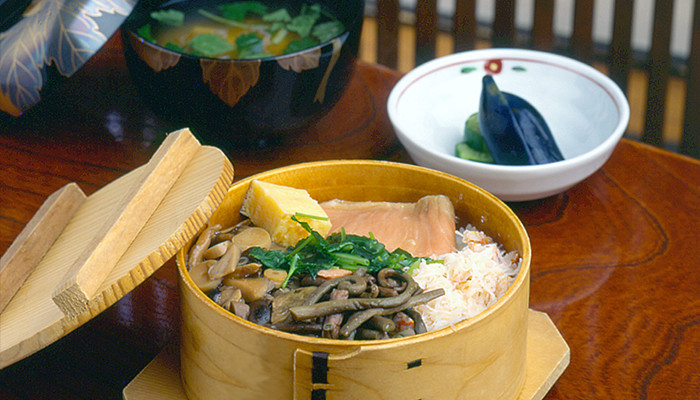 Wappa is a round container made of a thin sheet of curved wood, used as a lunchbox by woodsmen from ancient times. A restaurant owner in Aizu came up with the idea of filling a wappa container with a colorful mix of seasonal food to sell as an original dish, wappa-meshi. The simple, down-to-earth feel of the container matched perfectly with the food it held, and wappa-meshi quickly spread to become one of Aizu's standard dishes.
Takino Wappa-meshi
The wappameshi pioneer restaurant. Wappameshi is steamed rice with a variety of toppings, served in a bowl made from a thin sheet of curved wood
The Aizu western road Itozawa rest house, used during the Edo period, was moved here and restored in order to open this restaurant. A central pillar and the ceiling beams still bear the scars of the Boshin War. By the big hearth, visitors can enjoy wappameshi and the local, homemade cuisine. Seasonal dishes are served, and produced locally for local consumption.

【TEL】0242-25-0808 【Business hours】11:00~20:00
【Regular holiday】Open throughout the year
【Fee】Set Menu: 2,640yen (As of May 22, 2023)
【Access】By Car: 15 minutes from the Aizuwakamatsu IC exit
By Bus: 2 minutes on foot from the Haikara-san ""Shiyakushomae"" bus stop
Tagoto: Inn & Local Cuisine
A traditional inn that serves Meppameshi and local Aizu cuisine
Founded over 80 years ago, Tagoto serves authentic Japanese cuisine. Through the entrance hall, customers can feel the history of Aizu, by looking at all of the antiques and crafts found in the shiny black corridor flanked sturdy pillars. The specialty course menu, featuring the quintessential tastes of Aizu is very popular, and its quality is superb.

【TEL】0242-24-7500
【Fee】one night stay, with dinner & breakfast: starting at 9,240 yen~(As of March 1, 2017)
【Access】By Car: 5 minutes from the Aizuwakamatsu IC exit
By Taxi: 5 minutes from Aizuwakamatsu Station