Miso Dengaku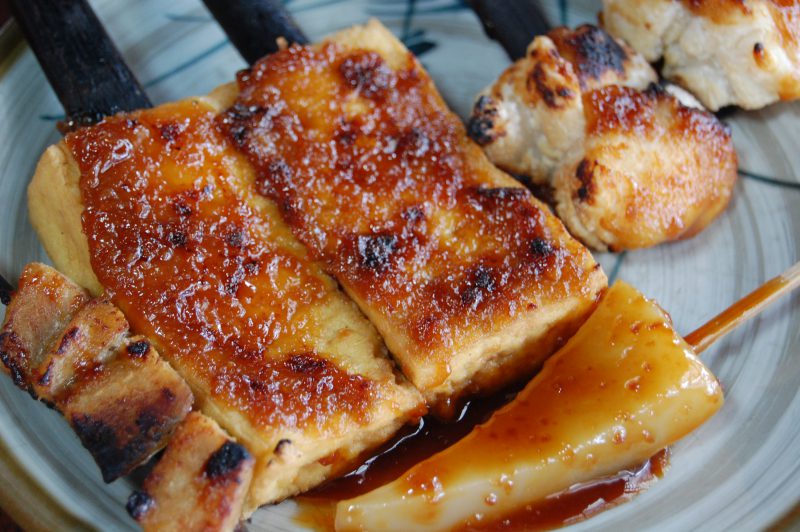 Originally dengaku was a ceremonal dance that included drums, dancing, and flutes, as a ritual for agriculture and rice planting. Now, dengaku is miso drenched fried tofu, becuase of the white clothes used for the ritual. Aizu's miso dengaku uses red miso, sugar, and various other seasoning. This old-fashioned styled food, has the reputation of not being able to stop eating them while you cook them over the charcoal fire.
Mitsuta-ya
Plenty of healthy local food: naturally fermented miso, pickled vegetables, hand-squeezed sesame oil, rapeseed oil, and more. The local dish, miso-dengaku, is also available!

Our store is filled with the savory smells of miso dengaku, dried herring, konjac, shiitake mushrooms, and taro; perfect for enticing customers. Dengaku was traditionally enjoyed during agricultural rituals featuring flute, hand drum, chants, and dancing during rice planting. Our skewers of white tofu are baked in miso, and known as "grilled dengaku". The miso used in our dengaku is from Aizu; its red color comes from a variety of spices and sugar. It is popular to enjoy eating your fill of this rustic country cuisine baked over a charcoal hearth.
Our hand-squeezed sesame seed oil and rapeseed oil are also popular as souvenirs. Hand squeezed oil has a refreshing flavor, and by removing the oil in this way, carotene and other vitamins and minerals are maintained at a much high percentage than normal oil.
The Aizu Takada plum is also popular. The skin is thick and hard, and the inside has a distinctive, sour taste. The plum is naturally flavorful and rich in citric acids. You should definitely give this taste a try.

【TEL】0242-27-1345 【Business hours】Store: 9:00- 18:00Dengaku and Food Stalls: 10:00- 17:00
【Regular holiday】January through March: Every Wednesday April through July/September through November: The 1st, 2nd, and 3rd Wednesday of the month/August and December: The 1st and 3rd Wednesday of the month New Years Eve/ New Years Day
【Fee】Food: Dengagku Course: 1,300 yen(As of March 1, 2017)
【Access】10 minutes on foot from the Nanuka-machi Station
Ohidechaya
Each one is made with care and has an exquisite taste.
This historical tea house was founded in the late Edo period. Feel the same as the ancient Japanese people, when enjoying dengaku made over a charcoal fire. We recommend trying our assorted 7 piece dengaku set.

【TEL】0242-27-5100 【Business hours】10:00~17:00 【Regular holiday】Tuesday
【Fee】Assorted 7 Piece Dengaku 800 yen/Walnut Mochi 650 yen(As of March 1, 2017)
【Access】Car: About 10 minutes from the Jr Aizuwakamatsu Station