Ashinomaki Onsen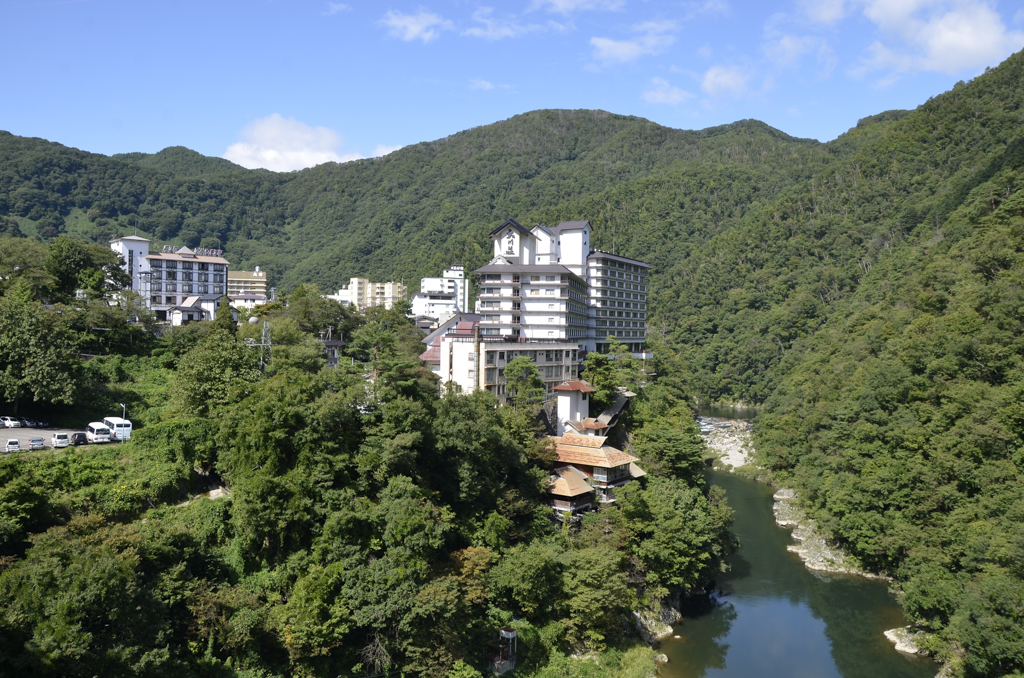 Ashinomaki Onsen was once nicknamed "the phantom village" due to its secluded location in the Okawa River valley. The onsen (hot spring) village dates from some 1,200 years ago and is tranquil and scenic. Walking through the forest trails or exploring the area by rental cycle are popular leisure activities. The village is also ideally located for visiting attractions in areas adjacent to Aizu-Wakamatsu, such as the traditional post-station town of Ouchi-juku and the To-no-Hetsuri river gorge.
Ashinomaki Onsen offers a variety of accommodations, allowing visitors to choose the location and style of lodging that best suits their needs. All accommodation facilities allow guests to experience fresh seasonal food and a relaxing hot bath, and many also welcome day visitors. It takes about 25 minutes by car from central Aizu-Wakamatsu to reach the village. Visitors coming by train should note that it is not practical to walk from Ashinomaki Station, but pickup can be arranged with some accommodation facilities in advance.

At an onsen, bathers are expected to wash and rinse their whole body before entering the water. It is not acceptable to wear clothing or a swimsuit into the bath. Some onsen may not accept guests with tattoos, so it is best to check in advance. In some cases, small tattoos can be covered with a bandage before entry, or it may be possible to reserve a bath for private use.



his English-language text was created by the Japan Tourism Agency.

【TEL】0242-92-2336 【Access】By Car:35 minutes from the Aizu-Wakamatsu IC exit/By Train:Ashinomaki Onsen Station on the Aizu Railway
Related Places
Aizuwakamatsu Ryokan Hotel Association

We will present to you Hotels and Ryokan (Japanese-style hotels) in Aizuwakamatsu..read more

Aizuwakamatsu Ryokan Hotel Association

We will present to you Hotels and Ryokan (Japanese-style hotels) in Aizuwakamatsu..read more

Higashiyama Onsen

Higashiyama Onsen is considered one of the best onsen (hot spring) villages in the region. According to legend, the Buddhist priest Gyoki (668–749) established the village more than 1,300 years ago.....read more