Higashiyama Onsen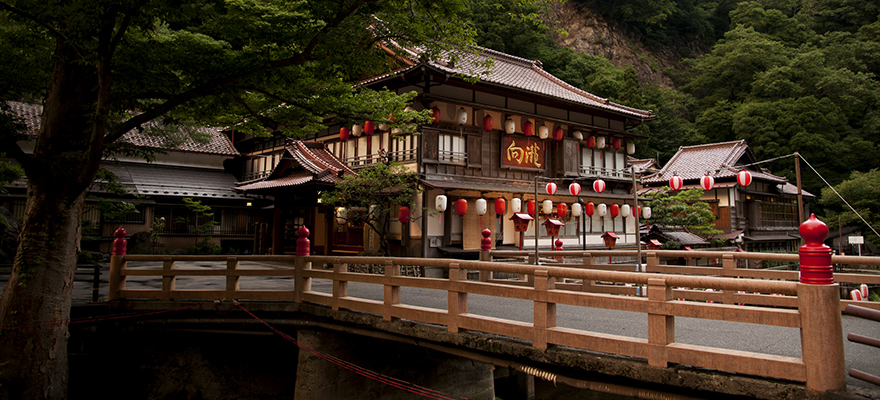 Higashiyama Onsen is considered one of the best onsen (hot spring) villages in the region. According to legend, the Buddhist priest Gyoki (668–749) established the village more than 1,300 years ago, and it was a popular retreat for local samurai. Today, the village's inns, hotels, restaurants, and gift shops line a scenic valley along the Yukawa River, giving visitors the chance to experience a taste of country life while still within easy reach of central Aizu-Wakamatsu. Higashiyama Onsen can be reached in 10 minutes by car or 20 minutes by bus from Aizu-Wakamatsu Station.
Higashiyama Onsen offers a variety of accommodations, allowing visitors to choose the location and style of lodging that best suits their needs. Onsen ryokan (traditional-style hot-spring inns) generally include both dinner and breakfast for overnight guests, while hotels tend to offer more flexibility with meals and schedules. These differences aside, all hot-spring accommodations in the village allow guests to experience fresh seasonal food and a relaxing bath. Many of them also welcome day visitors.

At an onsen, bathers are expected to wash and rinse their whole body before entering the water. It is not acceptable to wear clothing or a swimsuit into the bath. Some onsen may not accept guests with tattoos, so it is best to check in advance. In some cases, small tattoos can be covered with a bandage before entry, or it may be possible to reserve a bath for private use.



his English-language text was created by the Japan Tourism Agency.

【TEL】0242-27-7051 【Access】from Aizuwakamatsu Station
By Car:15 to 20 minutes/By Bus:25 minutes by bus, bound for "東山温泉 Higashiyama Onsen"
Related Places
Ashinomaki Onsen

Ashinomaki Onsen was once nicknamed "the phantom village" due to its secluded location in the Okawa River valley. The onsen (hot spring) village dates from some 1,200 years ago and is tranquil and .....read more

Aizuwakamatsu Ryokan Hotel Association

We will present to you Hotels and Ryokan (Japanese-style hotels) in Aizuwakamatsu..read more

Aizuwakamatsu Ryokan Hotel Association

We will present to you Hotels and Ryokan (Japanese-style hotels) in Aizuwakamatsu..read more