Mt. Iimoriyama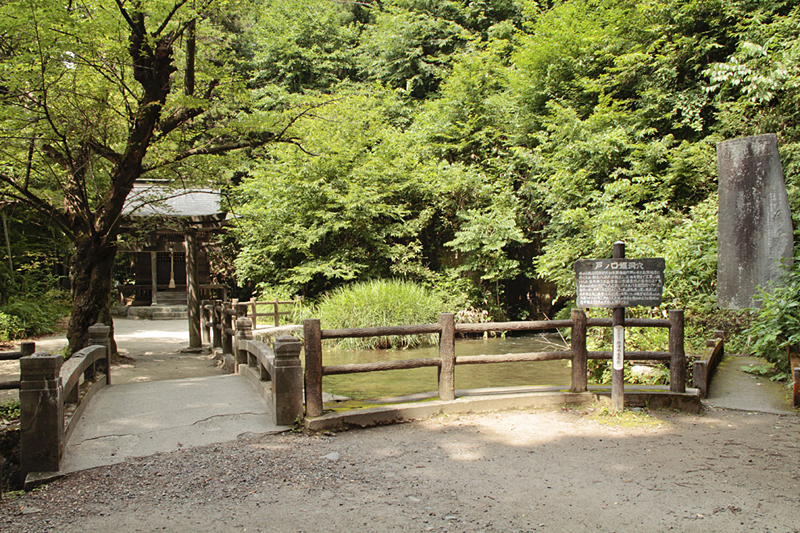 Mt. Iimoriyama with a spot such as a 【The Gravesite of the 19 Members of the Byakkotai】【Byakkotai Memorial Hall】【Sazaedo】【Itsukushima Shrine】【Ugashindo】
【The Gravesite of the 19 Members of the Byakkotai】
During the Boshin Civil war, the Byakkotai second brigade, consisting of twenty 16-17 year old boys retreated to the mouth of Tonokuchi-hara, through the secret Takizawa pass. They arrived on Iimoriyama, and from the mouth of the pass saw the tower of Tsurugajo castle engulfed in black smoke. "As the castle falls, so shall we for our lord" said the boys, and with that they committed ritual suicide. Only one of the 20 boys, named Iinuma Sadakichi, survived. This place has become well known for the story of the loyalty and tragedy of the Byakkotai Brigade. Twice a year, in the spring and autumn, a memorial service and sword dance is held to comfort the spirits of the dedicated Byakkotai.

【Byakkotai Memorial Hall】
The late Kiyoji Hayakawa, a lawyer from Aizu, founded this Hall in 1956. He used his own funds so that future generations could know the true tragedy of the Aizu Clan during the Boshin War. Various materials (mementos, drawings, photographs) including those of Byakkotai Troop are exhibited, alongside a diorama of the battlefield. There are also historical records and materials that relate to key figures of the war including Katamori Matsudaira, Kayano, Saigo, Akizuki, Nakano, Niijima, Kondo, and others. The exhibit is a must-see for history fans.
[TEL]0242-24-9170
[Business hours]8:00-17:00(April- November)/9:00-16:00(December-March)

【Sazaedo (nationally designated Important Cultural Property)】
Aizu Sazae-do, officially named Entsusansou-do, is a temple hall built in 1796 at Iimoriyama in Aizu Wakamatsu. It is famous for its three-storied hexagonal shape. At the time of itsbuilding, there was a temple called Shousouji. The chief priest, Ikudou, designed the main hall. 33 Kannon ( Goddess of mercy) statues were placed along the winding slope so that worshipers could pray as they went up and down. Because people go up and down different routes, they can worship safely, without bumping into each other. This unique structured became widely recognized, and was designated as a National Important Cultural Property in 1996.

【Itsukushima Shrine】
There was a Shinto shrine that was the main subject of faith in the Eitoku period (1381-83), three houses that possess the spirit of Ichinoseki Himimune, Ishizuka, Ishibe and Douya. It's been said the three goddesses of Munakata, established the shrine.

【Ugashindo】
We are celebrating the Great harvest god Ugajin (White Snake).
During the Kambun period (1661-1672), Matsudaira Masakata was built by the Itsukushima shrine, and now there are 19 Byakkotai Samurai statues that were built in 1980.

【Business hours】8:15 - sunset(April - December)/9:00 - sunset(January - March)
【Regular holiday】Open throughout the year
【Access】By Bus: 5 minuntes on foot from the Haikara-san/ Akabe "Iimoriyama-shita" bus stop
By Car: 15 minutes from the Ban-etsu Aizu-Wakamatsu IC exit