Oyakuen Garden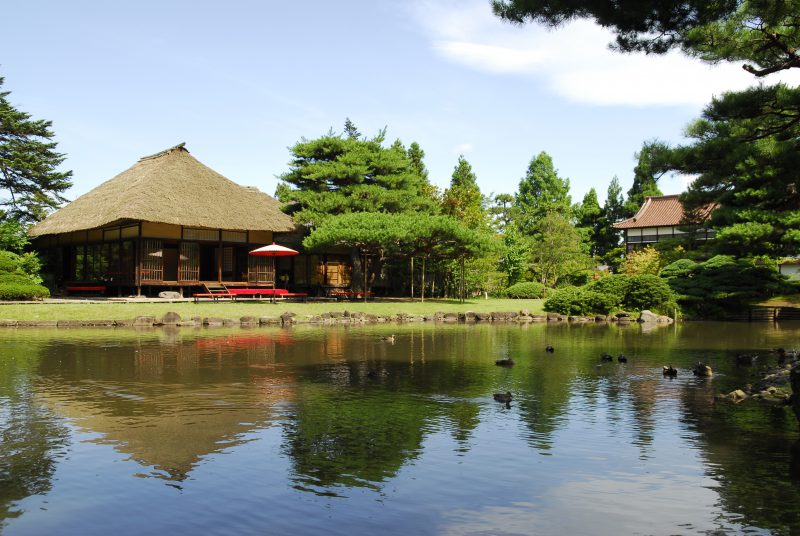 The Oyakuen medicinal herb garden is centered around a pond and features trees and flowering plants that make for ever-changing scenery year-round. This tranquil garden has a long history as a retreat for the lords of Aizu and retains many of its original features and buildings. Ashina Morihisa (1416–1444) built the first villa at the site, while daimyo lord Hoshina Masatsune (1647–1681) began growing medicinal herbs to benefit the health of the people of the domain, inspiring the name.
The pond and formal landscape were added in the late eighteenth century along with Ochayagoten tea house, which was originally used exclusively by the lord's family and guests. Today, visitors can sip green tea while enjoying garden views from the original tea house. Another building of note is the Rakujutei, an attractive six-sided pavilion on an island in the middle of the pond. Both of these historic buildings survived destruction during the Boshin War (1868–1869). The government army, who were fighting against Matsudaira Kotomori and the Aizu samurai, used Ochayagoten as a military hospital, which spared the facilities from major damage.

Aizu-Wakamatsu formed a connection with the imperial family in 1928 following the engagement of Matsudaira Setsuko (1909–1995) to Prince Chichibu (1902–1953), younger brother of Emperor Showa (1901–1989). A special annex was added to an inn in the nearby Higashiyama Onsen hot spring village to accommodate the princess and her family when they visited. This annex was relocated to Oyakuen Garden in 1973 and named Choyokaku by Princess Chichibu, as Setsuko became known, at a commemorative ceremony.



This English-language text was created by the Japan Tourism Agency.

【TEL】0242-27-2472 【Business hours】8:30~17:00(last entry 16:30)
【Regular holiday】Open throughout the year 【Fee】Adults: 320yen/High School Students: 270yen
Junior High & Elementary School Students: 160yen(As of March 1, 2017)
【Access】By Bus: 1 minute on foot from the Haikara-san "Oyakuen Mae" bus stop
By Car: 15 minutes from the Ban-etsu expressway Aizuwakamatsu IC exit