Festivals in Aizu-Wakamatsu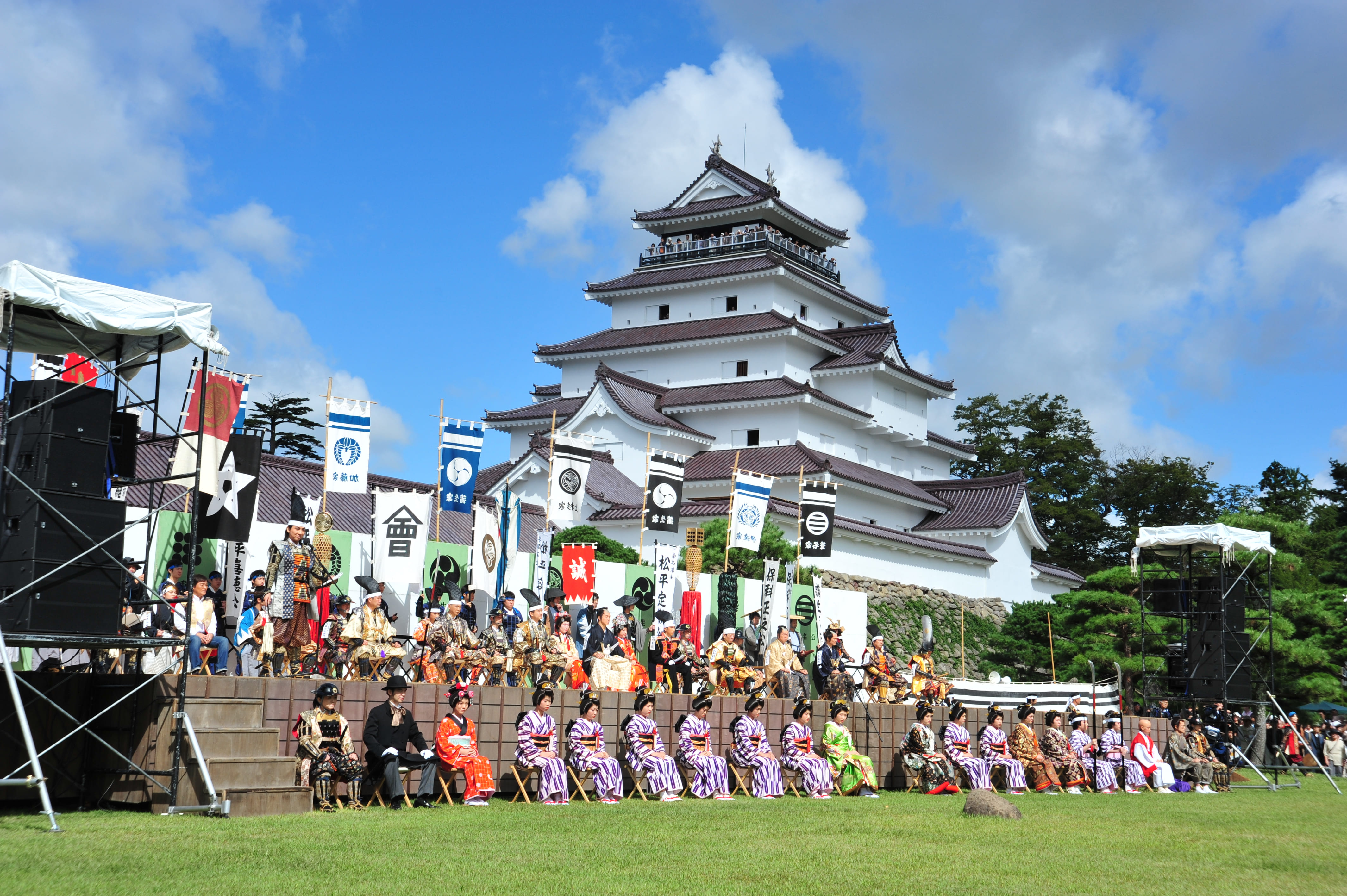 Each region of Japan has its own unique and colorful festivals, often based on local culture and traditions. Anyone visiting Aizu-Wakamatsu during one of its annual festivals should not miss the chance to join in the fun. Visitors should check Aizu-Wakamatsu's tourism resources for specific information about the various festivals held throughout the year. Two of the largest are described below.
Aizu Hanko Gyoretsu (procession of the Aizu lords)
The three-day Aizu Festival, the largest festival in the region, is usually held in late September. History comes to life with the highlight of the festival, the Aizu Hanko Gyoretsu. The proceedings begin with performances by skilled swordsmen in front of Tsuruga Castle. Then around 500 participants parade through the city center dressed as daimyo lords, samurai warriors, and nobles from various periods throughout the history of the Aizu domain. Some of them participate on horseback, adding to the excitement and sense of realism. Other events during the Aizu Festival include a parade with local children carrying lanterns, and traditional folk dancing, in which everyone is welcome to join.

Aizu Painted Candle Festival
Handmade candles, or e-rosoku, are one of the major traditional folk crafts of Aizu-Wakamatsu. Craftspeople display their artistic skill through intricate, hand-painted designs, typically of plants and flowers. The festival takes place on the second Friday and Saturday of February, when the city is usually blanketed in snow. Thousands of candles are placed in various locations throughout the city, including Tsuruga Castle and Oyakuen Garden. For the best views, visitors can climb to the top of Tsuruga Castle for a birds-eye view or stroll through the city to admire the striking illumination cast on the snow.

The art of e-rosoku developed as a result of the efforts of two lords. Ashina Morinobu (1408–1451) promoted cultivation of urushi trees to support the region's lacquerware industry. Sap from the trees was a key ingredient for making lacquer, while wax extracted from the seeds was used to produce candles. Gamo Ujisato (1556–1595) encouraged artisans to paint designs on the candles, and the practice flourished under the patronage of successive rulers. The candles continue to be used in religious ceremonies and weddings, and are also popular souvenirs.




This English-language text was created by the Japan Tourism Agency.