Matsudaira Family Cemetery on Mt. Innai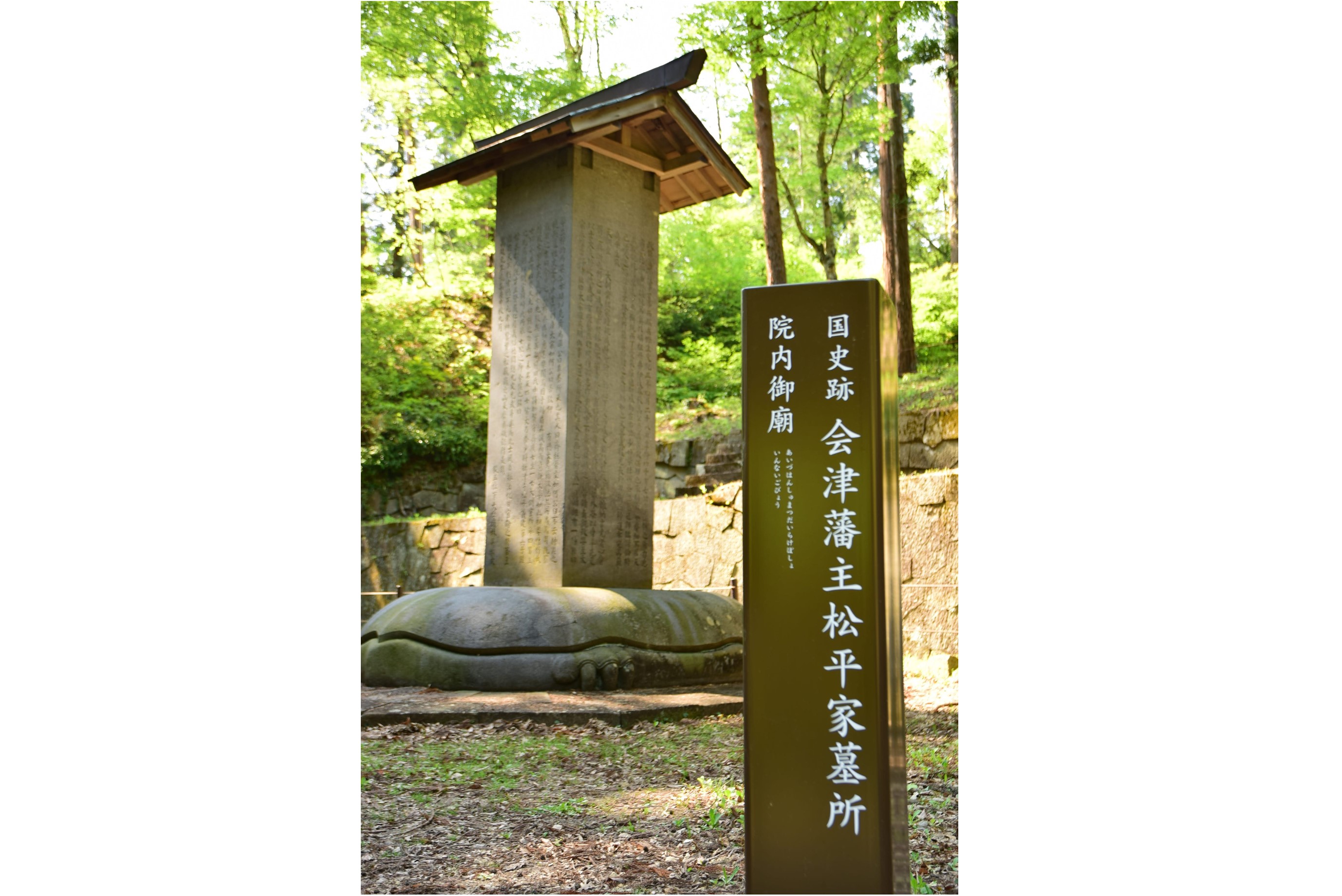 The cemetery of the daimyo lords of the Matsudaira family, the main ruling dynasty of the Aizu region, is located on the forested slopes of Mt. Innai. The mountain is attractive in any season but particularly in autumn. The hike to the cemetery, where some of the tombs are more than 400 years old, takes about fifteen minutes. The combination of the weathered, mossy stones and the majestic trees creates a peaceful atmosphere. English signage explains the layout of the cemetery.

The first daimyo lord of the Matsudaira family, Hoshina Masayuki (1611–1673), selected Mt. Innai as the burial site for his teenage son Masayori, who died in 1657. Masayuki himself was buried in another part of Fukushima Prefecture, but the eight daimyo lords who followed him were laid to rest on Mt. Innai. Of these, the second Matsudaira lord, Masatsune, was buried in Buddhist style, while the rest were buried according to Shinto tradition.
Resting in style
The Shinto tombs consist of three parts. Each site is marked with a towering stone pillar at the front, inscribed with the lord's titles and career details. Each pillar sits on the back of a turtle-shaped stone called a kameishi, which was thought to have divine powers and guards the tomb. A tombstone bearing the lord's name lies behind the pillar, along with an octagonal mound under which the lord is buried. The simpler tombs of wives, children, and other family members can also be seen in the vicinity.

Bells for bears
There are two entrances to Mt. Innai, which is easily reached from either the Higashiyama Onsen hot spring village or the Aizu Bukeyashiki (Samurai Museum). At each entrance is a small wooden box containing bear bells, which can be borrowed free of charge. This area is the natural habitat of the Asiatic black bear, and the sound of the bells can help to warn bears of your approach. Attach the bell to a bag or carry it during your hike, and return it to the box as you exit the forest.



This English-language text was created by the Japan Tourism Agency.