Dining at an Izakaya No.2 [Resutaurant]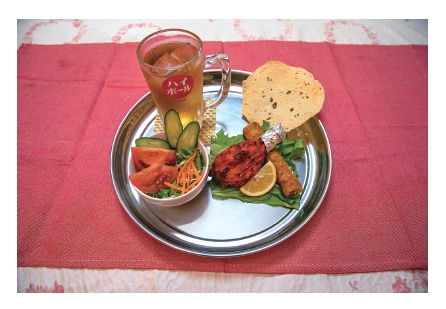 As one of Japan's top sake-brewing regions, Aizu-Wakamatsu offers plenty of places to relax with a drink. One of the best ways to enjoy local hospitality is by visiting an izakaya, a full-service restaurant that typically offers a wide variety of beverages and food items. All ages are welcome, and it is not unusual to see children dining there with their families.

Upon entering, you will be greeted and seated at a table on flooring or at a low table on tatami mats, in which case you will be asked to remove your shoes. After being handed a wet towel to cleanse your hands, the server will give you time to look over the menu, before coming back to take orders. Izakaya food tends to be simple and filling. It often includes seasonal specials using local produce, as well as favorites such as yakitori (grilled chicken on skewers) or karaage (fried chicken). Menus also usually feature some dishes suitable for vegetarians, and there is typically a range of alcoholic and non-alcoholic drinks to try, including the area's prizewinning sake.

Dishes served at izakaya are generally meant to be shared among everyone at the table. This allows each member of the group to enjoy a variety of tastes. Finally, don't forget to follow Japanese custom and say "Kanpai!" (Cheers!) as you raise your glass and toast to a good time in Aizu-Wakamatsu.




This English-language text was created by the Japan Tourism Agency.
HASHIGO SAKE(First-rate bar-hopping)
HASHIGO SAKE(First-rate bar-hopping)
A large selection of unique bars and restaurants you can enjoy 1,000 yen!!
Please enjoy the local cuisine of Aizu in the nighttime.
◆Period
Available from Sat,April 1st,2023 to Sun, March 31st,2024
◆How to use
 ①Get the "First-rate Bar-Hopping"pamphlet.
 ②Get a stamp by first ordering a "Bar-Hopping Set"
    (set with a drink and small dish(es)) at participating locations.
 ③You'll receive an Akabeko Strap as a gift if you collect two stamps.
◆Inquiries
Aizuwakamatsu City Night-Time Economy Promotion Council
(Secretariat:Within the Aizuwakamatsu City Tourism Division)
Address:3-46 Sakae-machi,Aizuwakamatsu City,Fukushima Prefecture,965-8601
Tel:0242-39-1251

Aizu Bar
Aizu Bar
A Spanish bar where you can freely enjoy wine and cuisine. Stop by for a full meal, drinks, or anything in between.

Address: 1F, Ishikawa Bldg, 1-9-5 Omachi
TEL: 0242-36-7257
CLOSED: None
OPEN: 11:30 a.m.-3 p.m.(Last order time 2 p.m.), 6-10 p.m.(Last order time 9:30 p.m.)
Hours for the "Bar-Hopping Set": 6-9:30 p.m.
Restaurant & Bar Beans
Restaurant & Bar Beans
A restaurant and bar where diners enjoy the chef's carefully prepared cuisine in a stylish interior.

Address: 2-25 Sakae-machi
TEL: 0242-28-5077
CLOSED: Sundays
OPEN: 11 a.m.-2 p.m., 5:30-11 p.m.
Hours for the "Bar-Hopping Set": 5:30-11 p.m.
tipu
tipu
A soup curry specialty restaurant, a rarity in Aizuwakamatsu City, with a full selection of full-course meals and alcoholic beverages.

Address: Sanshin Bldg, 6-24 Higashisakae-machi
TEL: 0242-77-4037
CLOSED: Tuesdays
OPEN: 5:30 p.m.-1 a.m.
Hours for the "Bar-Hopping Set": 5:30 p.m.-1 a.m.
KHAN NAWAB
KHAN NAWAB
KHAN NAWAB boasts naan baked in a traditional tandoori oven at 200℃!! The cheese naan is the most popular!!

Address: 1-41 Sakae-machi
TEL: 050-1133-5636
CLOSED: Sundays(5:30 p.m.-), Mondays
OPEN: 11 a.m.-3 p.m.(Last order time 2 p.m.), 5:30 p.m.-
Hours for the "Bar-Hopping Set": 11 a.m.-2 p.m., 6 p.m.-